Know Us
EnviX Asia was established in 2016 as a joint venture company among EnviX, Ltd., Tokyo-based environmental consulting company, Yamaki Environment Co., Ltd., Japanese environmental engineering company and a Thai engineer. The JV company, headquartered in Bangkok, provides clients with local access to global environmental regulatory database of EnviX, technical expertise of Yamaki Environment in the field of soil and groundwater engineering, and local engineering & management expertise of Thai engineer. Our key strength is in providing our clients with managerial and technical solutions to comply with environmental regulations in Thailand and ASEAN countries.
EnviX Ltd. : http://www.envix.co.jp/
Yamaki Environment Co., Ltd. : http://www.yamakikankyo.jp/
Our Global Network
EnviX, a parent company of EnviX Asia, tracks up-to-date environment, health and safety laws and regulations all over the world. Our global network of experts and affiliate companies support the business of global companies.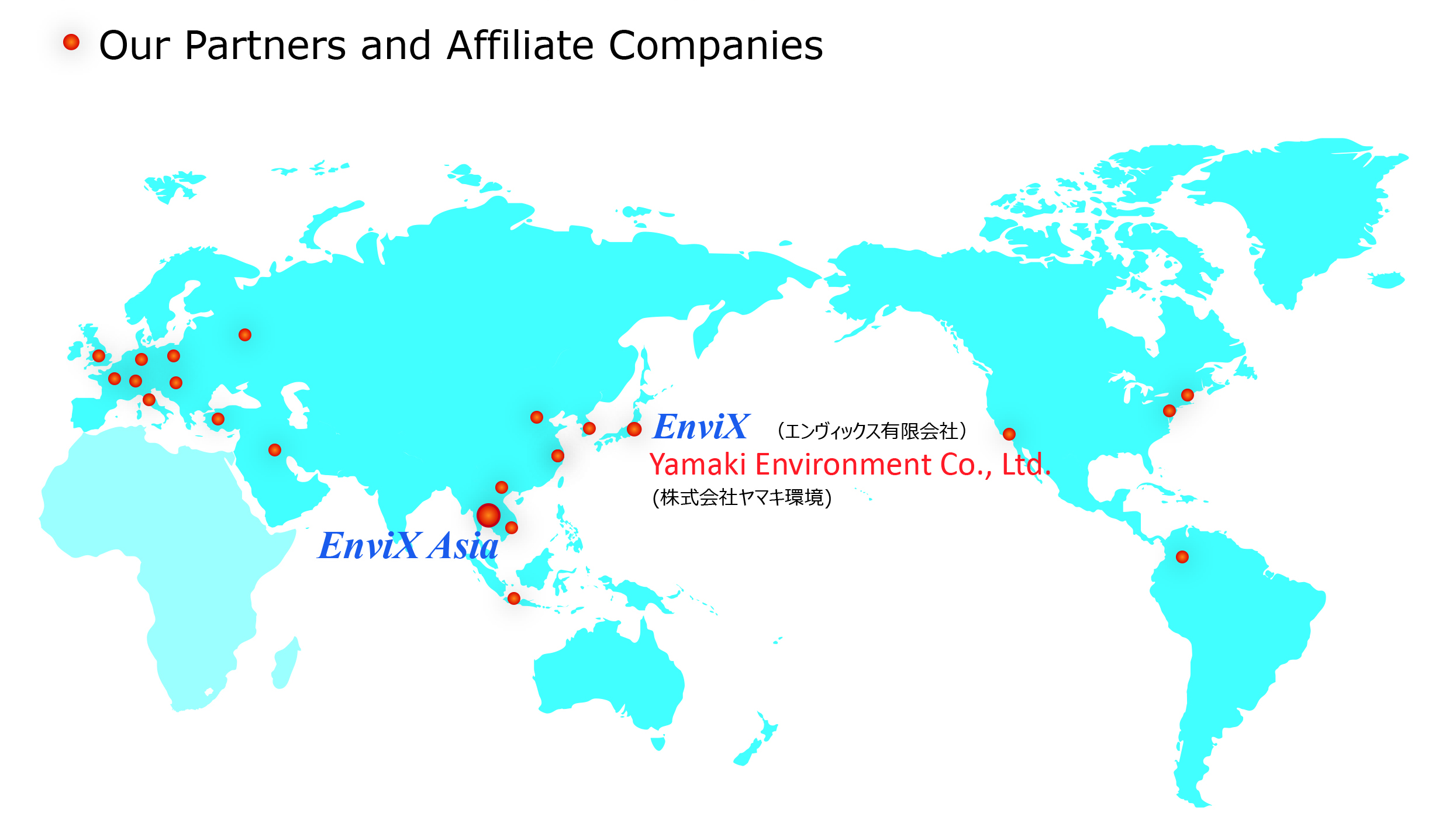 Company Profile
Company Name
EnviX Asia Company Limited
President
Yoshihiro Nakazato
Established
2016
Paid-in Capital
2 Million Baht
Business Fields

Environmental Consulting & Engineering
Soil investigation & remediation, Groundwater investigation & remediation
Consulting & supports in environmental management and audit
Consulting services for compliance on global environmental laws & regulations
Training for environmental managers and staffs

Office
24 Soi Inthamara 9, Suttisan Winitchai Rd., Samsennai, Phayathai, Bangkok 10400 Thailand
TEL
(+66)-(0)20775058
(+66)-(0)92-997-8900 (in Japanese)
Email
contact@envix-asia.com
Why EnviX Asia??
Our Japanese and Thai Environmental Consultants with Expertise in Environmental Regulations & Engineering including Soil and Groundwater Survey and Remediation
We can propose the best solution based on our experiences in Japan, Thailand and other international projects
Network with Ministries (eg. Ministry of Industry and Ministry of Natural Resources and Environment) support enhancement of your environmental performance in every aspect, including soil & groundwater, air, wastewater, wastes, chemicals and etc.
We can help industries to fulfil the requirements of the Government straightforwardly and to negotiate with the Government
To provide the reports and procedures in three languages, Thai, Japanese, and English
The bridge of a communication among Japanese, Foreigners and Thai managers.
Soil & Groundwater Expert is EnviX Asia